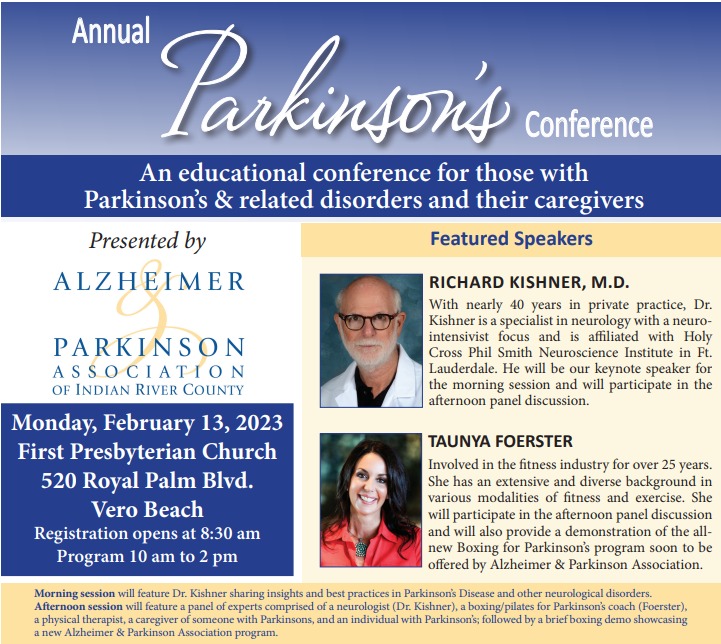 The Parkinson's Conference for caregivers and individuals with movement disorders is an annual conference hosted by the Alzheimer & Parkinson Association each spring. This 4-hour conference features expert speakers, such as local neurologists, movement specialists for the University of Florida and the Parkinson's Foundation, to discuss the aspects of the diseases and provide practical tools that assist with each situation. This conference also allows attendees to meet with local sponsors in the healthcare field that may help their situation. Contact us if you are interested in attending next year's conference in the Spring of 2024.
This years Parkinson's Conference featured:
Richard N. Kishner, MD, was affiliated with the Holy Cross Phil Smith Neuroscience Institute as a specialist in neurology with a neuro-intensivist focus after spending almost 40 years in private practice.
Dr. Kishner received his Bachelor of Science degree and his medical degree from the University of the Witwatersrand in South Africa followed by several months of a psychiatry residency at Johannesburg General Hospital.
He then completed his residency in neurology at Bellevue Hospital in New York. Dr. Kishner is board-certified in neurology by the American Board of Psychiatry and Neurology.
Thank You to our Speaker Sponsors
Thank You to our Lunch Sponsors
Thank You to our Platinum Sponsors
Thank You to our Gold Sponsors
Thank You to our Bronze Sponsors