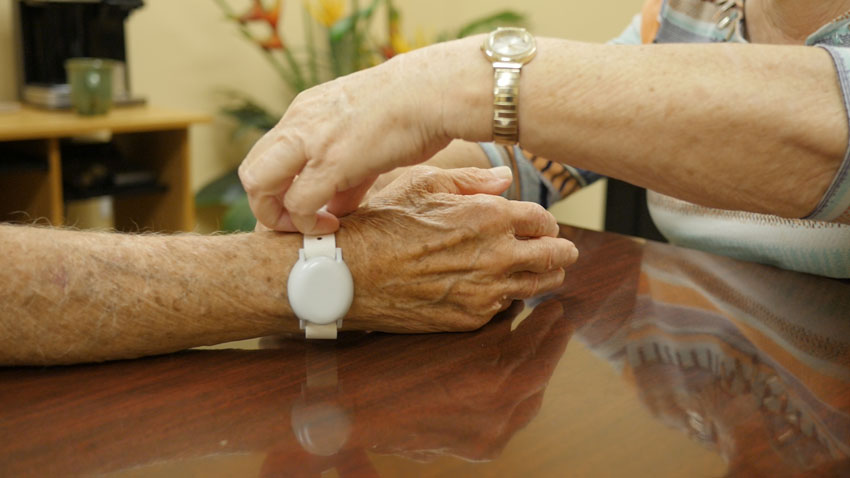 Do you know of anyone concerned about the safety of their loved one getting lost due to a cognitive disorder such as Alzheimer's, dementia, Down syndrome, or Autism?
We can Help!
Project Lifesaver is a program designed to allow authorities to track and locate lost individuals. Project Lifesaver provides a bracelet-type device containing a radio transmitter that allows law enforcement to locate an audible signal that is a frequency unique to the individual device. When a person wearing this device, is reported missing, law enforcement can track and locate the transmitter with both ground and air tracking receivers.
The device is free and the peace of mind is invaluable! All caregivers of our Project Lifesaver clients are grateful to have a "backup plan" in the event their loved one wanders.
Project Lifesaver is an organization that partners with citizens, municipalities, and others to help ease the minds of caregivers by providing this device and assisting in maintaining the safety of their loved ones. According to Project Lifesaver, the average recovery time is 30 minutes, which is 95% less than standard operations.
Search and Rescue Program
Partnered with the Indian River County Sherriff's Department, the Alzheimer & Parkinson Association can provide your loved one with a tracking device. To enroll your loved one with the Project Lifesaver Search and Rescue program, please contact us today at 772-563-0505.
Once the Project Lifesaver Application application is complete call 772-563-0505 to schedule an appointment to bring your loved one in to review the paperwork and receive the Project Lifesaver Device. Please be sure to carefully review the criteria of the Program Contract to be sure all of the conditions can be met. If you have any questions please call and we will be happy to help.
Made possible in collaboration with The Alzheimer's Foundation of America, the IRC Sheriff's Office, and the Treasure Coast Pilot Club

.