The Alzheimer and Parkinson Association of Indian River County, a local non-profit 501c3 organization, depends upon philanthropic support to carry out its important mission. Your generosity enables us to sustain our excellence in care, support and research. The end of Alzheimer's can start with you today with a gift or donation to the Alzheimer's Association. Your generous donation supports, early stage initiatives, safety services, educational programs, caregiver support groups and much more.
Using our online form is fast, easy and secure. Your gift will make a difference in the lives of people living with Alzheimer's disease and support research to improve treatment, care and prevention.
Annual Gift
Consider making an annual tax-deductible donation to the Alzheimer and Parkinson Association of Indian River County's Memory & Motion Center and support our cause throughout the year!
Memorials and Honorariums
This type of gift is made in memory of a deceased family member, friend, neighbor, colleague, etc., often in lieu of flowers for a funeral service, an anniversary of the individual's passing or other special times of remembrance.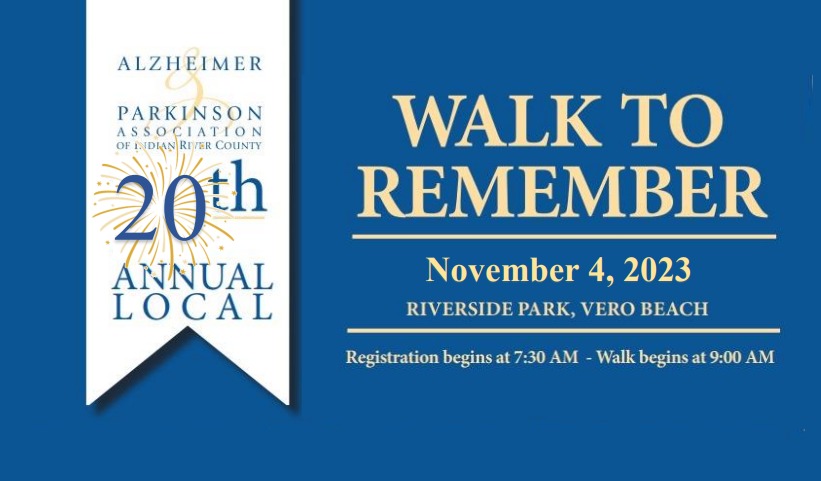 Walk to Remember
WALK TO REMEMBER raises awareness and crucial funds that pay for essential programs and services that help individuals and families in Indian River County who are connected to memory and/or movement disorders. All proceeds from the event are invested locally in programs ranging from social respite, support groups, educational classes, movement classes, memory screenings, and more. To support this wonderful event please visit our Walk to Remember website by clicking on the DONATE NOW button below or by clicking on the Walk to Remember tab in the menu bar.